WachsField Technologies deployed ThinManager and thin client hardware to drive multiple 60" high-definition TVs in order to build a hypervisual national data operations center. Not only was the project a major success, but they also saved the customer a ton of money. Here's how they did it.
The Setup
When Robert Maxfield first learned about his customer's desire to create a modern national data operations center, the customer already had some idea of how they would want it to be built out. The original idea included a ton of expensive video hardware that would be able to drive video output cards capable of running several high-definition TVs.
This solution had several shortcomings. The first issue was that it was going to be very expensive. Secondly, the timeline to procure the hardware and configure it was very lengthy. Finally, even after all the expense, the system would not be very flexible if new applications needed to be added in the future. Enter, Robert Maxfield from WachsField Technologies.
Maxfield, a seasoned system integrator, had used ThinManager on previous projects with great success. He knew the end result his customer was seeking could be achieved at a lower cost. He also knew that if they ever wanted to easily scale up from the initial design, they would need a better plan than just continuing to purchase overpriced video display and routing components. After discussing the new plan with the customer, WachsField Technologies developed an alternative design leveraging ThinManager and Arista thin client hardware.
WachsField was tasked with creating an operations center with ten 60' high-definition TVs that would be used as monitors. The customer had thirteen different applications that would need monitoring including GE IFIX HMI, Proficy Web Trending, Call Center Applications, GSA system, work order programs, mapping software, IP cameras and more.
The Deployment
Using ThinManager, WachsField Technologies was able to configure secure connections to the company's datacenter to provide displays to all ten 60" monitors. "Using ThinManager's MultiSession, MultiMonitor and Tiling features, we were able to divide the screens in various configurations according to the client's needs," stated Maxfield. "Each station at the NOC was outfitted with a laptop and an iPad. The iPads are running ThinManager iTMC and are able to Shadow the larger screens—bringing pertinent data right to the station. This also allows for the NOC staff to modify the layouts on the larger overall screens."
WachsField also deployed two additional ThinManager features to enhance security and improve the end user experience. The first was WinTMC. Just like iTMC can be installed on iPads, WinTMC can be installed on PC workstations and laptops. This allows ThinManager to centrally manage and deploy applications to those devices in the same way they are deployed to thin clients. In this case, the end users can easily switch between applications local to their laptop workstations and those being delivered by ThinManager.
The second was AppLink. This is a simple ThinManager setting that removes access to the desktop when deploying applications to thin clients. By using this option on the thin clients that drive the large operations center displays, only the required applications are displayed. This reduces the potential for end user error and keeps the NOC staff focused on their jobs.
"The operations center is now running day in and day out utilizing ThinManager. ThinManager's technology saved the client thousands of dollars and allows for extreme flexibility such as adding new IP cameras feeds as new cameras are installed and new stations come online," Maxfield explained. "We will continue to use ThinManager whenever we can. Our customer decided it was the best solution for their national operations center based on flexibility, scalability, cost and simplicity. This project was a success on all those points."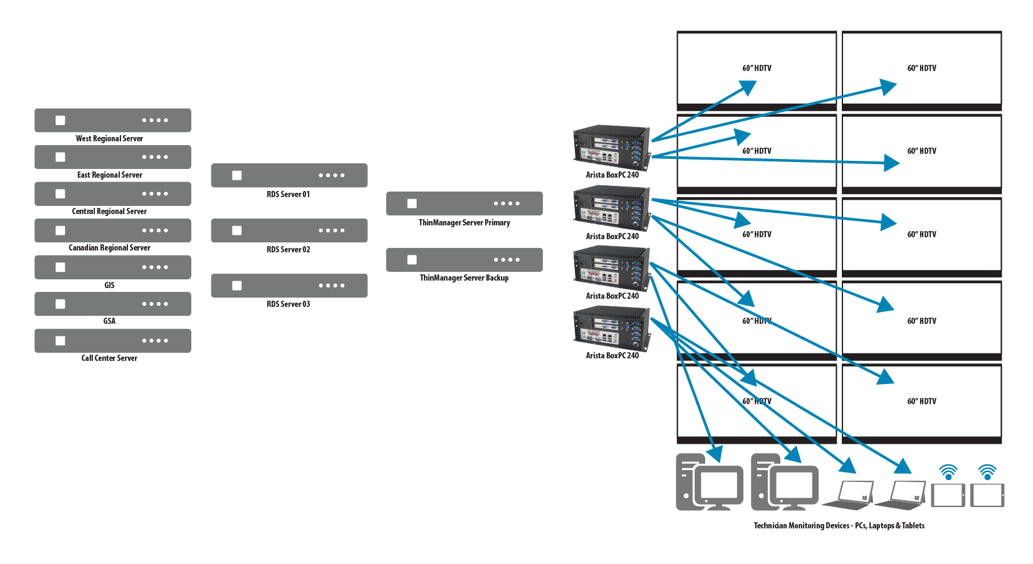 Project Overview
ThinManager deployment to expand visualization for new National Operations Center:
ThinManager Redundant servers
4 – Arista BoxPC 240 thin clients, unlimited client connections
10 – 60" high-definition TV monitors
Fit for ThinManager:
Centralized management for hardware, deployment of applications
MultiSession, MultiMonitor and Tiling features to drive large NOC display configuration
WachsField Technologies recommended ThinManager being used as the platform of choice for several reasons:
Simplified deployment
Lower costs for the customer
Greater flexibility and scalability
ThinManager Platinum Integrator
---
WachsField Technologies provides a full scope of Automation, SCADA, Integration and Controls services in the Industrial sector and beyond. Our expertise and experience is extensive in areas of the industrial sector including Design, PLC, HMI, Networks, Integration, Reporting and Automation. This experience spans a wide spectrum of industrial setting including Water and Wastewater, Landfill Gas, Natural Gas, Power Plants, Mining refineries and manufacturing facilities.
WachsField also takes our experience and expertise in industrial technologies to benefit corporate sectors.  Providing services to bring predictive analytics and optimization to existing technologies and platforms.
To provide the best solutions for our customers we are certified and experienced with a wide variety of software's and technologies enabling us to work in a variety of existing platforms as well as design the best approach to meet our customer's needs.
ThinManager, a Rockwell Automation Technology, is the only thin client management and secure mobility solution specifically designed for industrial application deployments. Learn more at thinmanager.com