Earlier this year, we wrote an article explaining the long and proud history of the ThinManager Roadshow.  Since then, the Roadshow has spent the summer traveling across tens of thousands of miles while visiting eight cities, two countries, and hundreds of people all wanting to know how to get the most out of their ThinManager ready thin client systems.
This year, ACP raised the bar by holding the Roadshow at some of the most famous and eclectic locations we could find to make sure that after spending a day talking about how ThinManager increases efficiency managing automated industrial environments, that everyone could have a little fun.  From stadiums, to racetracks, to museums, the legend of ThinManager continues to spread across the land.
Rather than singing our own praises from a mountaintop, I thought we would take a look at some of the feedback we got from those who came out to this unique event:
-"Thank you for inviting me to the Roadshow.  I found many useful features from attending the presentation."
-"Very good information, the demos were very good & useful information."
-"Presentation, facilities, ThinManager, was all top notch. "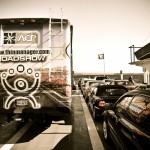 The ThinManager Roadshow is a great way to show the new features of our ThinManager 6.0 Platform to potential customers, as well as current end users looking to get the most out of this newest product upgrade:
-"Excellent content, entertaining and interesting.  Great presenters/ presentation."
-"Very good overview of product and its capabilities.  It was very informative."
-"Tremendous presentation to help me understand what we should be working towards."
The Roadshow team, headlined by Paul Burns, Director of Education, would change from city to city to keep the presentation fresh and geared towards each specific city.  Some of our participants even got to meet and discuss ThinManager with our CEO Matt Crandell:
-"Instructors were knowledgeable and friendly."
-"Thorough presentation in a highly professional environment.  ThinManager knows how to explain their product well."
While making sure we discussed everything that ThinManager can do today, our hope is always to help our customers envision how they can use ThinManager tomorrow:
-"Already purchased hardware and licenses.  Plan to install soon."
-"Great product.  Looking forward to purchasing."
-"WOW!  Delivering incredible possibilities in an easy to manage environment.  I look forward architecting MultiMonitor control rooms with ThinManager."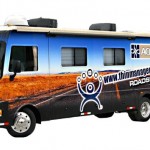 Positive feedback like that is what motivates us and keeps us looking forward to ways to improve the Roadshow before we roll out again next summer. With just a few stops left on the final leg of the 2012 ThinManager Roadshow, we wanted to thank everyone who attended and came to experience "the power of thin" in person.
To register for one of the remaining Roadshow dates click here:
To register for our two-day hands-on training sessions click here: