Every Friday, we dedicate this space to sharing solutions for some of the most frequently asked questions posed to our ThinManager Technical Support team.  This weekly feature will help educate ThinManager Platform users and provide them with answers to questions they may have about licenses, installation, integration, deployment, upgrades, maintenance, and daily operation.  Great technical support is an essential part of the ThinManager Platform, and we are constantly striving to make your environment as productive and efficient as possible.
We are looking to add some eGalax touch monitors to our facility.  Are they compatible with ThinManager via RS232 or USB?
ThinManager 6.0 SP2 has a module for eGalax touch screens. The module in this picture is for RS232 Connectivity, with the USB Touch Screen Driver Module providing support via USB.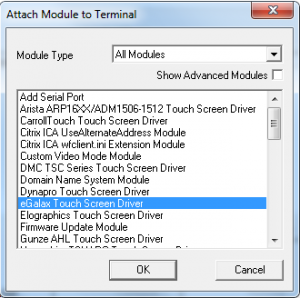 -TM                        
Do you have a hardware list of Video / CPU/ Network cards supported by the ACP driver provided with PXE Package?
Please see our XLi Compatibility list for a list of thin clients that have been tested by ACP and confirmed working with XLi.
http://www.thinmanager.com/complist/
-TM                     
We have a bunch of sites that have existing thin clients currently running ThinManager 4. We are looking to upgrade to version 6 Xli in the near future. So I have 2 questions.
Are the following thin clients supported? 

6824-ACP
7824-ACP
UNO-2053E
        2.  What is the upgrade path from Thin Manager 4 to Thin Manager 6 Xli?
All of those models should work fine with ThinManager 6.0.  

Upgrading is a fairly painless process.  Basically:
– Turn off automatic synchronization if you're using it.
– Run the ThinManager 6.0 installer.
– Turn automatic synchronization back on.
– Reactivate your master license with the new installation IDs.
Could you please tell me if ThinManager 6 is supported on Windows Server 2012 or what time frame you have for implementation?
ThinManager 6+ is compatible with Windows Server 2012 as long as you run the installer in Windows 7 Compatibility Mode.   With the upcoming release of ThinManager 6.0 SP3 (check back here next week for release date and specifics), installing in compatibility mode will not be an issue.
-TM
__________________________________________
To review cost savings of using the ThinManager Platform, visit our ROI Calculator here.
To read about successful ThinManager Platform deployments, visit here.
To see when the next ThinManager 2-Day Training Session is being offered, visit here.