ACP is excited to announce that Dynics has become an official hardware partner offering ThinManager Ready technology.
Dynics is a leader in the production of industrial touchscreens. The proven Dynics technology will now become ThinManager Ready. Dynics products have always been able to support ThinManager through the PXE boot functionality, but when Ed Gatt, president of Dynics, saw the value of a ThinManager and Dynics solution, they were excited to offer a ThinManager Ready machine to their customers.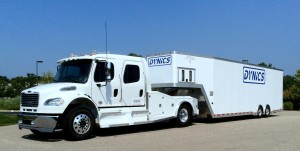 As an exclamation point on this exciting partnership, Dynics will be integrating ThinManager into their state-of-the-art Demo Trailer, an incredible showcase to all the different offerings Dynics brings to the table. This Freightliner business-class trailer is filled with the latest in Dynics technology displaying touchscreens sized from 8 inches all the way up to 80 inches in size!