Terminal Services and Windows based Thin Clients have risen on the wave of Total Cost of Ownership (TCO) and are now widely deployed with a near 100% rate of success.  Thin Clients can be deployed over any network and can view native Windows applications installed on Terminal Servers, taking advantage of standard Windows features like authentication, security, policies and profiles. Thin Client screens look and feel no different than their Windows workstation counterparts, and most users will not even be able to tell the difference.
Gartner Group Study
According to fairly extensive analysis by the Gartner Group, the overall TCO benefit of Thin Client terminals over standard PCs is about 32 percent. They found that much of this saving comes from the fact that PCs are not typically locked down (i.e., the users can install their own software), are not managed (i.e., lack tools for software distribution, remote control, inventory) and are not maintained through an active asset management process. Thin-client deployment also offers a quick return on investment, with a payback period of three months for Thin Clients compared with unmanaged PCs.
The analysis was performed using Gartner's own Ti2 ("TI squared") software, with assumptions based on 2,500 desktops and 35servers accessed by users from a central site and from two remote sites. The overall annual TCO is $12.9 million (or $5,160 per user) for Thin Clients, compared with $17.1 million (or $6,840 per user) for standard Windows 2000 PCs.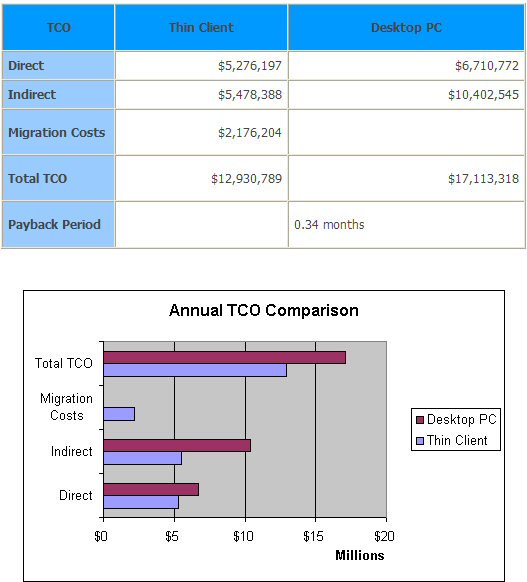 Direct costs included staffing and administration costs for hardware and software, as well as acquisition and maintenance costs for the hardware. Indirect costs include peer support, casual learning, self-support, file and data management and formal learning. (NOTE: While fewer people are needed to manage the Terminal Servers than for the 2,500 PCs, their labor costs are generally higher)
The inclusion of migration cost is very likely on the high side, especially if the Thin Clients are being added to replace PCs as the PCs become obsolete – in that case an even higher cost would be incurred for switching to a new PC than for switching from a PC to a Thin Client.