Growth, for any business, is always a good thing. But even good things have challenges. When a growing food and beverage customer found that too many new machines combined with their existing controls system were making work harder, they called on Everworks, Inc. to streamline their facility.
The customer had acquired multiple machines and new automation equipment as part of their growth strategy. Each new machine came with an OEM solution that is typically a stand-alone FactoryTalk View ME PanelView or SE Local Station. The SE instances ran on industrial computers that required continuous updates and expensive maintenance. What the customer needed was a strategy to integrate 4 OEM systems with their existing native controls to create one modern, fully automated, large food processing line.
The solution needed to bring together diverse HMIs consisting of 6 operator stations on the production floor. The customer wanted their maintenance staff to be able to support the facility more efficiently when making display changes. A FactoryTalk View SE Network Distributed architecture and ThinManager® were proposed to increase operator efficiencies in daily use, allow centralized updates and provide cost savings when clients need to be replaced or updated.
The ThinManager deployment provided a modern, centralized approach to managing the end user terminals and deploying the HMI content to the right person in the right place. Two standout features deployed for the customer were AppLink and Terminal Shadowing. AppLink allows administrators to limit access to Windows features at the thin client. This feature helps operators stay focused on work and restricts the ability for them to access OS level functions. The Terminal Shadowing feature was also deployed to allow remote viewing of operator stations during troubleshooting. It also provides higher quality support when the maintenance staff is remote.
Phil Vermeeren, from Everworks, Inc., considers this project a big success for the customer.
"With this being the first ThinManager project for the customer, there was a bit of a learning curve in understanding how all the components worked together. Once there was an overall understanding of how to use ThinManager, the process of building and expanding the system was simple. The most challenging part of the integration was the specific server setup required to deploy the FTVSE Network Distributed system. This was curbed with assistance from our Rockwell Automation distributor, Gerrie Electric Wholesale, LTD.," stated Vermeeren.
"As companies continue to automate their processes, the OEM machine builders tend to provide a solution that runs as a stand-alone process. When machines are fully commissioned, the in-house maintenance staff is typically burdened with maintaining multiple types and versions of HMI software. But when these applications are migrated to a central server, there are substantial cost savings with the reduced time required for system patches and display changes, as well as lower cost of field hardware for replacements and expansion. If the HMI platform is FTVSE then a migration to SE Network Distributed takes little effort relative to the benefits it can provide when deploying clients using ThinManager."
"I would highly recommend ThinManager as a solution to distribute Remote Desktop Services to thin clients. The cost savings for larger implementations is a big factor when companies are looking for fixed computer stations to place in their facility. Using a centralized server and remote clients provides operational cost savings that should be considered by any facility looking to expand," Vermeeren concluded.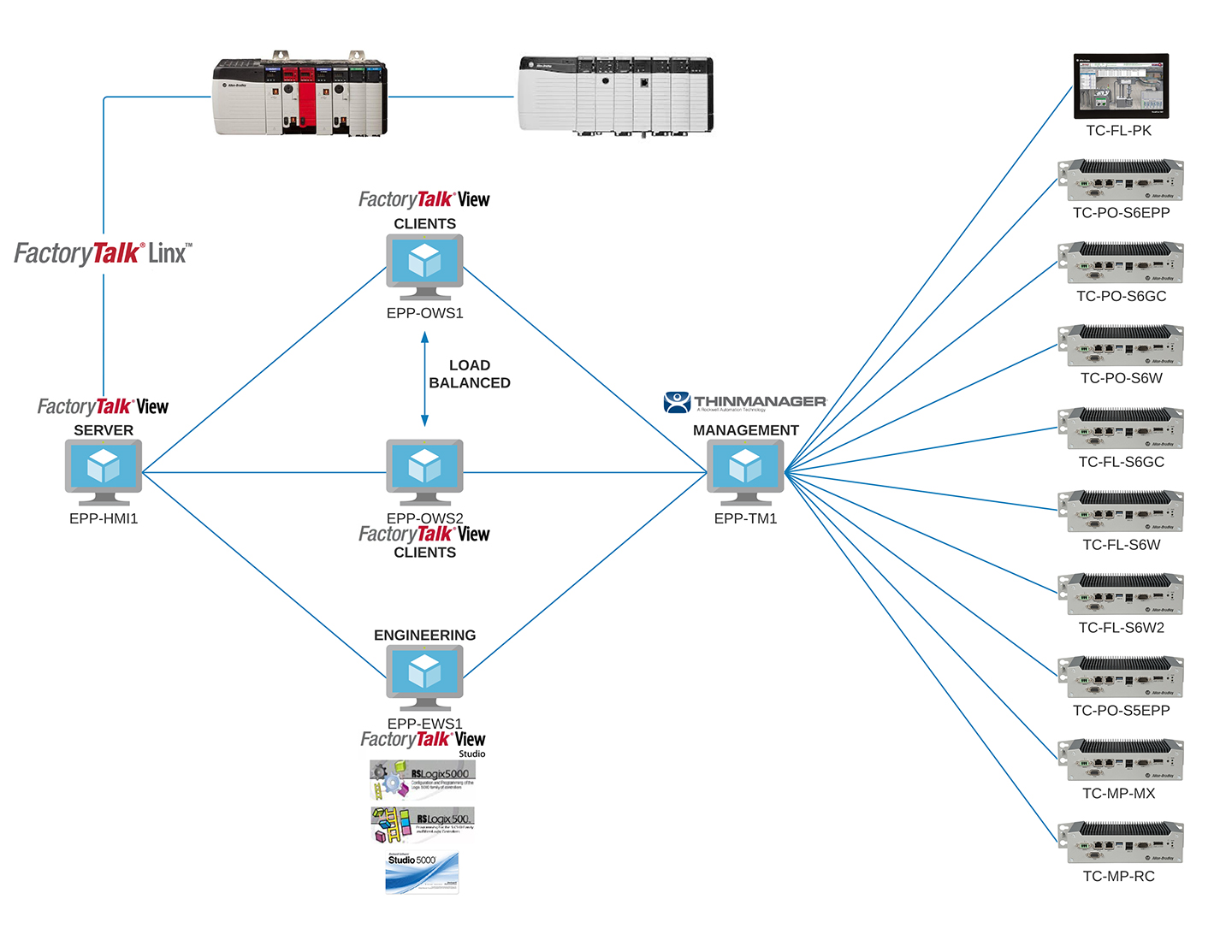 Project Overview: Everworks used ThinManager to create a solution for their customer that centralized multiple HMI applications, simplified troubleshooting tasks and offered greater internal support availability.
System Integrator: Everworks, Inc.
Thin Client Hardware: 6200T-NA thin clients, 6200T-22WA client
Software Deployed: FactoryTalk View SE, ThinManager
Learn more about Everworks Inc. at https://everworksinc.com