Singleton Birch Ltd is the UK's leading independent lime supplier with a worldwide customer base. The product range includes quicklime, hydrated lime, natural hydraulic lime, graded chalk, aggregates and other specialist products and services.
Over the last few years, Singleton Birch has worked to optimize production operations. They have moved from a localized, plant-based approach to a centralized control room scenario with field-based operators communicating directly with the CCR (Central Control Room).
Initially, Singleton Birch installed a 'Thinking Space' control desk consisting of an array of monitors mounted in a video wall style configuration and several eye-level monitors fitted to the desk. A KVM was also installed to minimize the number of keyboards and mice. Each monitor was driven by a standalone PC. This configuration lacked the flexibility of being able to move windows between the different display units, and the PCs required constant updating and maintenance.
Singleton Birch planned to decommission this control room and install a new, larger control room to cover the entire site. The new control desk arrangement contains twenty-six 24" monitors and twenty 55" monitors to display SCADA screens, CCTV and other business systems.
Singleton Birch investigated several solutions to allow these large arrays of monitors to be managed in a more flexible manner. They also trialled a hardware-based solution. This solution was partially successful but was considered cost prohibitive and lacked certain functionality the customer really wanted.
Singleton Birch then asked InControl Systems Limited (ISL) to provide a solution to the above scenario for the new CCR arrangement. InControl Systems decided that ThinManager would be the best solution for driving this massive visualization challenge. Indeed, combining ThinManager and FactoryTalk View SE provided exactly what the customer needed.
Each operator is now able to select which SCADA system they require on most monitors. Numerous operators, across different shifts, have their own preference for what they want to view on each monitor. This install gives them that flexibility. For example, on the large 55" 4K monitors they can choose whether to display a 2×2 grid of different SCADA pages or show one Fullscreen SCADA page.
Replacing the central control room PCs with ThinManager-managed thin clients not only provided the best visualization solution, but also reduced the maintenance and costs required to manage the updated CCR.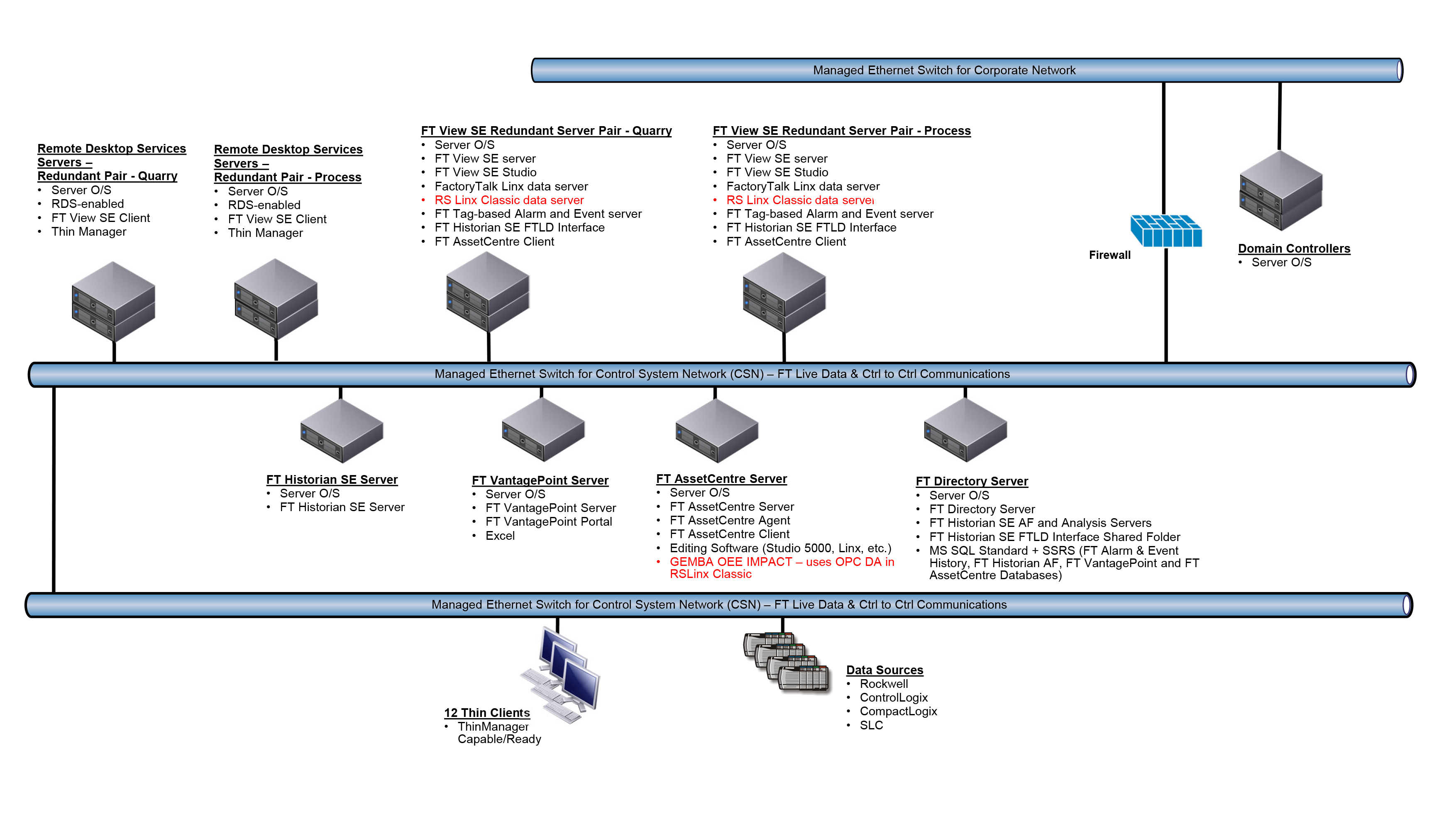 The InControl solution included the following:
4 FactoryTalk View SE servers (2 pairs of primary and secondary servers)
4 RDS servers with FactoryTalk View Client installed to be used as a published application with ThinManager's AppLink
1 FactoryTalk Directory server
1 Factory Talk Historian server
1 Factory Talk Asset Centre server
ThinManager installed as redundant on 2 of the RDS servers
13 HP T730 Thin Clients with 4 display ports
ThinManager solution included the following:
Auto Synchronisation between primary and secondary ThinManager servers
PXE Server with reservation list based on Thin Client MAC addresses
Allow Terminal Replacement so the customer can easily replace thin clients and minimize downtime
Interactive Shadow to allow InControl to train operators remotely and easily provide remote support
Multimonitor – most thin clients have 4 monitors connected
Locate Mouse Pointer module to allow the operators to easily find their mouse cursor across the array of monitors
Master and Slave mouse and keyboard modules to minimize the number of mouse and keyboards required
VNC to show old RSView32 SCADA systems in the new control room
Virtual screens to allow 4 SCADAs to be shown in a 4×4 grid on large 55" 4K monitors
Fullscreen option to allow one of the SCADAs in a 4×4 grid to be maximised
ThinManager TermMon ActiveX used in the FTView SE SCADA system to programmatically move SCADA clients to different monitors based on thin client name
System Integrator: InControl Systems Ltd.: https://incontrol.co.uk