Managing a Municipality
We recently sat down with Ken Osborne, the SCADA Systems Coordinator for Pinellas County Utilities and discussed what it takes to keep the water flowing for over one million people in the Tampa Bay area.
Q –  "How long have you been with the Pinellas County Utilities?"
A –  "Thirty three years"
Q –  "What did the system look like 33 years ago?"
A –  "There wasn't a system. In about 1995, we installed a VMS based Opto 22 system for all of Pinellas County, which at the time, was four main facilities plus 300 pumps and offsite stations. After Y2K happened, when we saw that our software was not working properly, we started converting over to Wonderware and we completed our first site deployment with ThinManager on an upgrade to a Terminal Server environment with Wonderware."
Q –  "What did ThinManager add that your system had been lacking?"
A –  "Originally, we just had a PC environment, running Wonderware and we had to manage all those PCs while contending with licensing and hard drive problems as well as issues common to a PC environment being in the waste water field.  When we made the decision to move to thin clients, we looked at how ThinManager made it easy to manage a secure desktop where people couldn't leave their HMI screen to go somewhere else.  ThinManager software allowed us to have one program running all the time and was easy to manage off one console."
Q –  "How many clients do you currently have deployed throughout all of your facilities?"
A –  "I have fourty ACP ThinManager clients and three ThinServers"
Q –  "How far away are your facilities from each other?"
A –  "It is thirty miles from the very end of Pinellas county in Ft. Desoto up to Tarpon Springs, so we service a wide area that runs on a dual microwave healing ring and each area has its own subnet main areas with ThinServers at each facility."
Q –  "Can you explain what the challenges are managing software and hardware in a Water Management system? Does the environment dictate specific needs?"
A –  "It does if you have clients in an area where there is a lot of gas and corrosion.  You can lose hardware prematurely because of corrosion on the boards as well as lighting strikes and storm conditions.  We are now able to put our servers in an area that can't be touched by the environment and put thin clients out in the field so there is a minimal cost to replace them when failure does occur."
Q –  "Before changing over to thin clients, if you lost a PC, what kind of time and effort would be required to replace it?"
A –  "It was a lot because first we had to get a new PC, load the HMI software and all the drivers you needed to get going.  Then we had to connect it to the network, and copy the application. With a thin client we just have to plug it in, turn it on, configure the IP and it finds the ThinManager software by itself.
Q –  "After upgrading to ThinManager ready thin clients, was there an immediate cost savings?"
A –  "It definitely cost less than a work station or a PC.  And the ease of deployment makes it much quicker which is great, because time is money."
Q –  "Do you have a dedicated in house IT department?"
A –  "There is a county IT department, but they just manage the network. We troubleshoot and maintain all of our own clients, servers, and software with a two person team."
Q –  "So you have two people who maintain all the water management for an entire county?"
A –  "Two people run all the water and wastewater utilities for Pinellas county"
Q –  "Are there any other municipal agencies that you've discussed ThinManager with or showed it to who are now considering it as their network management system?"
A –  "We get calls from various municipalities throughout the state who want to tour our facilities see what we use and how we have deployed our ThinServers and ThinManager ready thin clients.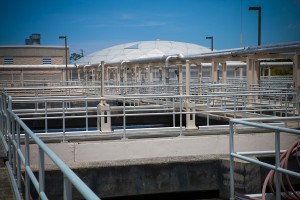 Q –  "Can you discuss the functionality that ThinManager offers in addition to your HMI?"
A –  "What we like about it is the ability to control the content being used on those desktops.  When an operator goes to use something they are only accessing our HMI.  They can't minimize and go to something else…go browsing the net.  It is really closed down to one specific application. There's no worry that someone is doing the wrong thing on those terminals.  So it really offers peace of mind."
Q –  "You are in the process of upgrading to ThinManager 6.0?"
A –  "That's correct."
Q –  "What new functionality and applications are you planning on using that you aren't using with your current version?"
A –  "We're looking forward to using the Shadowing feature so we can have an HMI license that we can shuttle out to a plant so if an operator is working at one site and goes to another he can shadow his terminal and have access to his HMI right there."
Q –  "What about Terminal to Terminal Shadowing to allow the operator to be able to move around the plant and access one session from any terminal?"
A –  "Yes, that's probably one of the nicest features I saw on the new ThinManager software because our plants are so big and the staff may only use one main terminal shadowing the one they use the most and not have to buy a HMI license just for a terminal they might only use once a shift. They can shadow that terminal back at their office which will save us a ton of money."
Q –  "Have you looked at using WinTMC to address some of the issues that you have with your mobile clients?"
A –  "Definitely.  One of the problems we have with the mobile clients is that our field technicians will login to the network from their vehicle using a laptop via an air card and can sometimes log into either the wrong Terminal Server or the wrong application and end up working off of bad data. I envision using the WinTMC feature so I can control where they are logging into and make sure they are using the right application. It will save me a ton of time not having to go back to find out what they did and where they might have created a problem by logging into the wrong plant or wrong set of stations.   Our goal is to be able to effectively and efficiently manage their remote connections."
Q –  "What kind of Redundancy do you have in place today?"
A –  "Right now we have no redundancy as far as the application.  We have hardware redundancy with our Stratus Servers and no real failure there has ever happened. But there's no application redundancy as of right now.  Our plan is to add application redundancy so if we lose one terminal server at a facility, we can use the backup located at our central station."
Q –  "Have you had any major issues over the years of using ThinManager?"
A –  "I must say, we never had any problems with it.  We use it as a template and duplicate it to all of our sites and it never has let us down."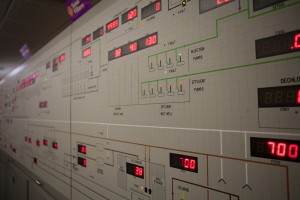 Q –  "Are you currently enrolled in COMP Support?"
A –  "Yes we are."
Q –  "Have you ever had to call or email with an issue?"
A –  "We have, but not very often.  We've had to call for help moving the licenses around as needed, and have had a couple of questions regarding some drivers but very rarely have we needed to call for support."
Q –  "Could you imagine managing your current systems without ThinManager?
A –  "Not using ThinManager to manage my clients throughout the whole system would definitely be very time consuming.  Because of the distances between facilities and the unpredictable weather here in Pinellas County, machines constantly go down or need to be rebooted.  But that layer of ThinManager software does most of that work for me."
Q –  "Do you have any advice you would give to anybody else looking at PCs versus the ThinManager thin client technology?"
A  –  "If your facility has multiple PCs, and you have the option of going to a Terminal Server with thin clients I would go that direction every time.  The ease of maintaining your system will make your life much easier and you can sleep at night."