Last month, we published the transcript of the "Developers Roundtable Discussion," which was the most popular and highest attended session at our annual TMUG (ThinManager Users Group) Conference.  Every year, attendees have the opportunity to pose questions to our developers and share the answers they receive with other end users around the world.  This year, however, we expanded on this event and added a new segment simply titled "Tips & Gems."
Presented by Tim Caine (Chief Technology Officer) and Paul Burns (Director of Education), this new segment was spawned by the desire to give end users answers to many of the questions posed to our developers over the years and simply explain the full range of ThinManager's flexibility and functionality beyond its basic features.  "Tips & Gems contains a lot of little known features that most users aren't aware of," said Tim.  "Over the years we have nuanced and added functionality to existing features based on customer feedback and ideas we had during the development process."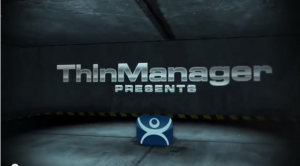 Rather than posting a transcript of this segment of the TMUG Conference, we have begun creating short video tutorials that not only explain these Tips & Gems but also show how to implement them within ThinManager.  The first twenty short video tutorials can be found here.  Included are Tips & Gems explaining how to set display client options, keyboard and mouse configurations, RDP redirection, and how to set up security groups, just to name a few.
Many of these improved features answer the needs of end users in a way that might not be obvious at first glance.  We will continue to expand this growing video library of Tips & Gems to ensure that our customers get as much out of their ThinManager Platform features as possible.
__________________________________________
To review cost savings of using the ThinManager Platform, visit our ROI Calculator here.
To read about successful ThinManager Platform deployments, visit here.
To see when the next ThinManager 2-Day Training Session is being offered, visit here.